Residential & Automotive Locksmith Services
A handyman can often do much more than you think. Let's go beyond the common types of handyman services and think outside of the box. Did you know that the right handyman can offer painting services, roof repair, and even residential and automotive locksmith services?
Handy Locksmith Services
Why would you need residential and automotive lock services? Perhaps you have found yourself locked out of your house or vehicle? This happens more than we would like to think – especially if we're locked out of the car with the engine running!
At home, you might find yourself in need of a new mailbox key or to have an outbuilding or garage unlocked. Maybe you'd like to install a new lock in a door that doesn't have one.
These are just a few of the more common reasons you might find yourself in need of a residential locksmith, but it is not the end of what a quality handyman can do when trying to find a locksmith in your area. More services can be, but not limited to, rekeying old locks, repairing locks, rekeying sliding doors and other non-traditional locks, opening padlocks and safes, adding deadbolts and panic bars, and so much more.
When looking for automotive locksmith services, be sure to consider your local handyman. He or she is quite often a "one call does it all" person and can help you with multiple automotive locksmith issues, including car lockout, installation and repair of door locks and ignitions, new keys, and even offer mobile and 24/7 services.
Basic Locksmith Service Costs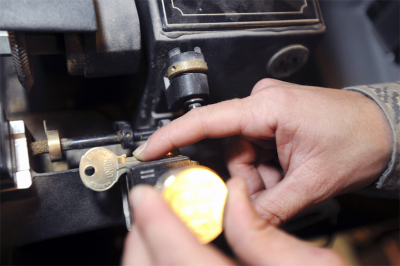 It is hard to put a price on the basic locksmith service costs because it will depend on the situation. But, you can consider minimums of $40-$100 (plus the cost of parts) in order to have a locksmith rekey your residence. If you need a key cut or a lock rekeyed, you can expect to pay anywhere from $1-$4 per key with special keys costing upwards of $20 or more.
Should you be in need of automotive locksmith services, you can expect as little as $25 for a basic lockout (depending on location and situation), and anywhere from $35-$150 for key replacement. Modern transponder keys can be expensive!
Whatever your needs, be sure to check out handyman services in your area and, chances are, you'll find what you need at a price you can afford.
Finding Affordable Locksmith Services in Missoula
Just like most services these days, when trying to find affordable locksmith services in Missoula, a simple Google search will reveal many results. But who can you trust?
General Handyman Services prides itself on being the solution to your residential and automotive locksmith services in the Missoula area. Our main goal is to develop a long-term relationship with you and be your first call for all your home repair services, home improvement needs, and any (and all) residential, commercial, and automotive locksmith services you might find yourself needing.
Give us a call today!