Common Handyman Services You May Need
Over the years, some of us have developed skills that do not translate into home repair. And some of us are just plain mechanically uninclined. Have no fear! That superhero known as a handyman does exist.
What are some common handyman services you may need? Your needs could run the gambit from broken shower tiles to insulating pipes. Often in between, you may experience leaky windows, blown electrical fuses, or loose and squeaky door knobs, latches, and hinges. Or you might find yourself in need of picture hanging, furniture to be moved, or a drain or disposal unclogged. The list could be endless, and each home repair service will be dependent on your home improvement needs.
Owning a home comes with a lot of responsibility – many of those being the upkeep and maintenance of the property.
Affordable Home Repairs & Remodeling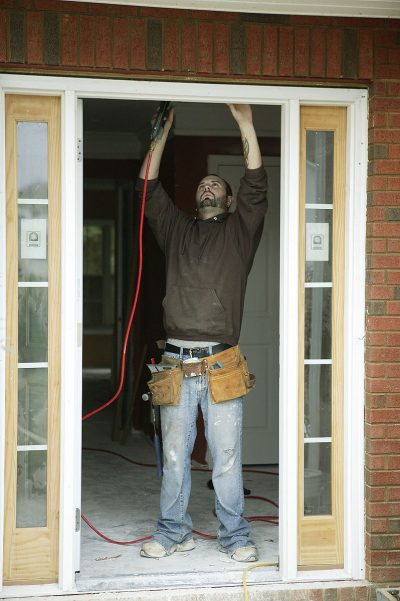 Home Repairs and Remodeling services can get expensive. That is why it is important to shop around, compare prices, and compare customer reviews.
One thing you will find is that a stitch in time does truly save nine. In other words, the longer you ignore an issue, the more expensive and troublesome it will become. Also, by utilizing handyman services in your area, you should consider asking him or her to take proactive measures such as caulking windows and doors, inspecting and repairing insulation, and inspecting and repairing leaky pipes and faucets. Employing such measures could mean the difference of hundreds – even thousands – of dollars each year!
Owning a home is a long-term investment. The more proactive versus reactive you are, the more affordable your home repairs and remodeling needs will be.
Find A Handyman In Your Area
How do you find a handyman in your area? You can likely find capable people through online job boards or word of mouth. And, sometimes, this will work out. But more importantly, a general web search – for a handyman in your area – will offer you a ton of options.
From here, check out the ones that present themselves in a professional manner with a quality website and have quality customer reviews.
A reputable handyman recognizes that, when done well, one job will lead to another and will make it his or her mission to offer affordable home improvement and repair services that result in a satisfied customer.
Affordable Drywall Repair, Painting & A Lot More
Patching and painting, due to drywall repair, is usually at the top of the home repair list. Whether a swinging door knob punches through the drywall or a chair back rubs the paint away, a regular home repair request is a patch and paint service. Often this includes replacing a small portion of the drywall with a patch and spackle, sanding the surface smooth and even, then painting the wall to match.
A profession handyman service near you will be able to handle this type of work and so much more.
Home Repair, Home Improvement & So Much More
From home repair to home improvement, when looking for quality handyman services near you, be sure to give General Handyman Services a call. We work hard to make sure we become your go-to handyman for all your home improvement and repair needs.
Give us a call today for a free consultation. We look forward to offering a hand!